NEWS
SCARZ CUP -Identity V- vol.2 Announcement!
Feb. 26th (Sat.) SCARZ is hosting SCARZ CUP -IdentityV- vol.2, for Pros and Streamers!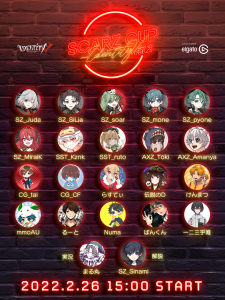 This time, it's SCARZ! The players of SCARZ, the champions of the Fall IVC, will be the team leaders, and the members will be chosen through a draft format!
The draft meeting will be held during the broadcast, so you'll have to wait until the day to see how the teams are organized!
Once again, we will be inviting professional streamers to participate in this tournament, which is designed to be a serious and fun way to see the top-level competition.
【About the last tournament】
📺Tournament Archive (Japanese Only)
▼Tournament Outline
Name
SCARZ CUP -Identity V- vol.2
When
2022/2/26(Sat.)15:00 JST~
Game
Identity V
Stream
SCARZ Official YouTube
No. of Teams
4 Teams
Match format

Rules

Players from SCARZ, the Fall IVC Champion, will be the team leaders, and members will be selected in a draft format.

Round-robin BO1 format * Points based on IVC standard

The team with the highest total points will win the tournament.

Commentators

まる丸 (MaruMaru) 、Sinami(SZ)

Participants

SiLia(SZ)、Juda(SZ)、MiraiK(SZ)、soar(SZ)、mone(SZ)、pyone(SZ)、Amanya(AXZ)、Toki(AXZ)、Kznk(SST)、ruto(SST)、tai(CG)、CF(CG)、らすてぃ、伝説のD、けんまつ、mmoAU、Numa、ぱんくん、るーと、一二三乎唯

※Subject to Change
This tournament is held with the cooperation and support of "Elgato".