NEWS
[New Sponsor]Sponsorship Agreement with ALTEKNA – An Advanced Technical Designer and Consultant
We are pleased to announce that the professional esports team "SCARZ" (operated by XENOZ Corporation; President: Yoichi Tomori) has signed a sponsorship agreement with ALTEKNA (Head office: Ota-ku, Tokyo; Representative Director: Koji Shimizu).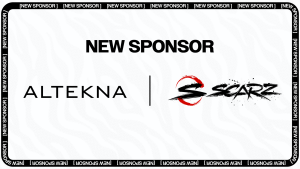 ALTEKNA is a company that provides advanced technical capabilities to meet the various development and design needs of manufacturers across Japan.
They are involved in the design and development of products across a wide variety of fields, including aircraft, automobiles, amusement equipment, smartphones, personal computers, and home appliances. Over the years they have earned a great deal of trust and experience.
Since its establishment in 1984, the company was categorized as an "engineering group" that has always been one step ahead of its competitors in product design, design, and development work while pursuing "plus alpha" (added value) in order to realize quality that exceeds customer expectations. The name is based on the meaning of "ALT" (high) and "TEKNA" (technology).
■ALTEKNA Co., Ltd. Company Profile
Company name: ALTEKNA Co., Ltd.
Representative: SHIMIZU Koji
Location: Nikken Daini Bldg. 2F, 7-8-3 Nishi-Kamata, Ota-ku, Tokyo 144-0051, Japan
Business activities: Design, mechanism design, electrical and electronic circuit design, and software development for automotive parts, home appliances, etc.
---
❏Message from Koji Shimizu, President of ALTEKNA Co., Ltd.
"We are honored to have signed a sponsorship agreement with SCARZ, a leader in the Japanese esports industry.
SCARZ has achieved brilliant results in domestic esports tournaments in the past year, and has begun to challenge the world.
We are pleased to support SCARZ as a company based in Ota-ku, a neighboring city of Kawasaki City, which is also aiming for the world.
In collaboration with SCARZ, we will continue to bring more attractive products to the world and boost the esports industry."
❏Message from Yoichi Tomori, President of SCARZ
"SCARZ is pleased to announce that we have signed a sponsorship agreement with ALTEKNA.
First of all, on behalf of SCARZ, I would like to express our sincere gratitude for this agreement.
We were surprised to see the wide variety of products that SCARZ is involved in designing and developing, and we are very happy to be able to offer our support to them.
In addition, since we are neighbors in the region, I am personally looking forward to future collaborations with ALTEKNA from the bottom of my heart.
We will all do our best to give our continuous support.
Best regards."