NEWS
[New Sponsor] Sponsorship Agreement with Paidy Inc., a Provider of the Buy-Now-Pay-Later Service
We are pleased to announce that SCARZ (managed by XENOZ Inc., CEO: Yoichi Tomori) has signed a sponsorship agreement with Paidy Inc.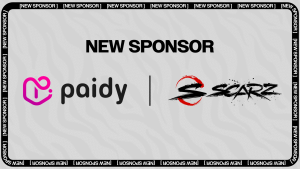 Paidy Inc. is a company that aims to provide a fun and smart shopping environment for everyone with the mission of "No more 'hassle' in shopping. (hereinafter referred to as "Paidy") is a company that aims to provide an environment where everyone can enjoy shopping in a fun and smart way. Through safe and convenient deferred payment services such as "next month lump sum deferred payment" and "3 times deferred payment", we support the realization of everyone's dreams.
SCARZ OFFICIAL STORE will introduce "Paidy", which allows users to make a deferred payment with just an email address and cell phone number, to increase convenience for users of the e-commerce site.
■About "Paidy"
Paidy was launched in October 2014 as a "Buy Now Pay Later" service that allows users to pay for their purchases in full the following month. Payment is made simply by entering an email address, cell phone number, and a four-digit authentication code sent via SMS. Payments made through Paidy can be made at convenience stores, by bank transfer, or account transfer, allowing customers to enjoy a safe and convenient online shopping experience. They also offer a "3-pay later" option that allows customers to make payments in 3 installments with no installment fees* after verifying their identity through the Paidy app. This service is used by many users, and the number of Paidy accounts currently exceeds 7.7 million.
There is no installment fee only for bank transfers and account transfers.
---
Paidy:
Paidy, Inc. is an industry-leading provider of the Buy Now Pay Later service, Paidy. Paidy's mission is to spread "trust" in society and create a world where all people can have "confidence in their dreams and room in their hearts.
Company Profile
Company name: Paidy Inc.
Midtown Tower 12F, 9-7-1 Akasaka, Minato-ku, Tokyo 107-6212, Japan
Twitter:https://twitter.com/paidyjp
---
❏Message from Mr. Tomoshu Hashimoto, Executive Vice President, Paidy, Inc.
"Through this sponsorship, we are honored to be able to support the innovative challenge of the SCARZ team, which is at the forefront of e-sports in Japan. We look forward to working with all of our stakeholders and fans to support the SCARZ team as they strive to reach the top of the world, and together we hope to help create a path that will allow them to continue to pursue their dreams."
❏Message from Yoichi Tomori, President of SCARZ
"We are pleased to announce that SCARZ has signed a sponsorship agreement with Paidy. First of all, as the representative of SCARZ, I would like to express our heartfelt gratitude for this agreement. It is a big step forward for us to be able to work with Paidy, a leading service provider in the industry. Through SCARZ, our team also aims to create a space where new dreams and smiles can come true through e-sports. It is our ambition to grow even further as a team to meet the challenge of the dream from the same perspective. In the future, we will be collaborating with Paidy on the SCARZ store page, so we hope you will keep an eye on us. We look forward to working with Paidy and SCARZ in the future."