NEWS
[New Sponsor] Sponsorship Agreement with Nextorage, a Next Generation Storage Solutions Provider
The e-sports team "SCARZ" (operated by XENOZ Co., Ltd., CEO: Yoichi Tomori) has signed a sponsorship contract with Nextorage Co., Ltd. (Headquarters: Kawasaki City, Kanagawa Prefecture, President: Katsuyuki Honda).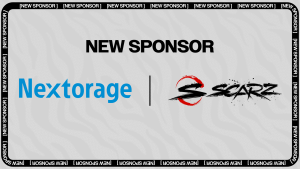 Nextorage Co., Ltd. (hereinafter referred to as Nextorage) is a company whose flash memory product business is independent from Sony Storage Media Solutions, and whose business is the development, design, manufacture and sale of storage media equipment.
In the game area, we offer extended SSDs with heat sinks that have been confirmed to work with PlayStation 5 and SSDs for core gamers.
Together with Nextorage, who is thoroughly committed to the highest performance and quality and challenges the "world's first" and "world's No. 1", we will take a new step toward the world based in the same Kawasaki.
---
❏ Greetings from Mr. Katsuyuki Honda, President and CEO of Nextorage Co., Ltd.
Nextorage is honored to have signed a sponsorship agreement with SCARZ, a leader in the Japanese e-Sports industry.
SCARZ has achieved brilliant results in domestic e-Sports tournaments in the last year, and has started to challenge the world. We are pleased to support SCARZ as a company based in Kawasaki, Japan, that is also aiming for the world.
In collaboration with SCARZ, we will continue to bring more attractive products to the world and boost e-Sports.
❏Message from Yoichi Tomori, President of SCARZ
We are pleased to announce that SCARZ has signed a sponsorship agreement with Nextorage.
First of all, on behalf of SCARZ, I would like to express our sincere gratitude for this agreement.
As a gamer, I am very happy to be able to support this important part of our peripheral equipment.
We will continue to expand the e-sports space and create various possibilities.
We also look forward to moving forward as a team in the same city of Kawasaki and developing various initiatives in the community.
We look forward to working with Nextorage and SCARZ in the future."
---
■Nextorage Company Profile
Company name: Nextorage Corporation
Location: 9F Kawasaki Ekimae Tower Rebark, 12-1 Ekimae Honmachi, Kawasaki-ku, Kawasaki-shi, Kanagawa, 210-0007, Japan
Business activities: Development, design, manufacture and sales of storage media devices and related businesses