NEWS
【New Sponsor】Announcing the Signing of a Sponsorship Agreement with GALLERIA
We are pleased to announce that the e-sports team "SCARZ" (operated by XENOZ Corporation; President: Yoichi Tomori) has signed a sponsorship agreement with the gaming PC brand GALLERIA of Third Wave Co.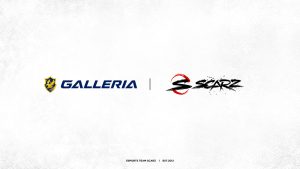 Our esports team "SCARZ" is aiming for a high level of performance to compete in the world with high-quality and high-performance "GALLERIA" PCs.
❏Message from Yoichi Tomori, President of SCARZ
SCARZ is pleased to announce that we have signed a sponsorship agreement with GALLERIA.
First of all, as the representative of SCARZ, I would like to express our sincere gratitude for this agreement.
Once again, we are deeply grateful to GALLERIA for welcoming our team with open arms.
We are very excited to be able to take on new challenges, not only for our players' performance but also for the team as a whole, with high-quality GALLERIA.
We look forward to taking the next leap forward as a team, so please continue to support SCARZ and GALLERIA in the future.

About GALLERIA
The "GALLERIA" series is a high-spec machine brand that pursues high performance to the limit for those who want to enjoy the latest PC games. GALLERIA is committed to providing a comfortable environment for enjoying games and is thoroughly committed to product quality at every stage, from development to production and after-sales service. GALLERIA is committed to creating the joy of playing and connecting with others.
Brand Site  https://galleria.net
Sales page https://www.dospara.co.jp/5gamepc/
About Third Wave
Third Wave Inc. is an IT company engaged in the solution business to solve the problems of individual, professional use, and corporate customers. The company plans and manufactures domestically produced PC brands such as "GALLERIA" gaming PCs, "raytrek" PCs for creators, and general-purpose PCs, in addition to operating the "dospara" PC specialty store and the " 上海問屋" brand of digital goods. Third Wave also uses the "GALLERIA GLOBAL CHALLENGE", an esports tournament that connects to the world. It is a special sponsor of the "National High School eSports Championship", which is held to promote esports as a new culture. Third Wave aims to contribute to the realization of a better information society by delivering cutting-edge technology with peace of mind and to be a company that will be sought after by the world for the next 100 years.
Third Wave http://info.twave.co.jp/
Dospara https://www.dospara.co.jp/