NEWS
FURINKAZAN CODM Tournament
Feb. 24th (Thu.) A CoD:Mobile Tournament for Pros and Streamers「風林火山(FURINKAZAN)!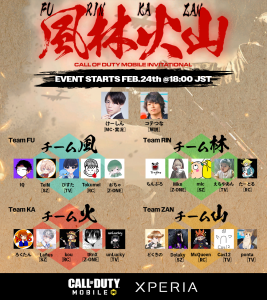 The concept of this tournament is to invite professional streamers to enjoy the top level of competition in a serious and fun way.
▼Tournament Guide
Name
風林火山 FURINKAZAN
Schedule
2022/2/24(Thu.)18:00 JST~
Game Title
CoD:Mobile
Prizes
1st 200,000 JPY、2nd 100,000JPY、3rd- 50,000、Event MVP 30,000
Stream
SCARZ Official YouTube
Num. of Teams
4 Teams (1 Streamer+4 Pros)
Match Format

CoD:Mobile International Rule Set

BO3(Finals only BO1)

Casters

Announcer:けーしん

Analyst:コテつな

Participants

SCARZ(TeiN、Mic、LaFius、Dolaky)/REJECT(Tokumei、たーとる、kou、McQueen)/Z-ONE(おちゃ、tRnX、Mkn)/Team Vrilliant(えっちやあん、unLucky、びすた、ponta、Cas12)/IQ/ちんぷろ/どくきの/ろくたん

※Subject to Change
This tournament will be held with the cooperation and support of "Xperia".