SCARZ CLIP Series #3 powered by Elgato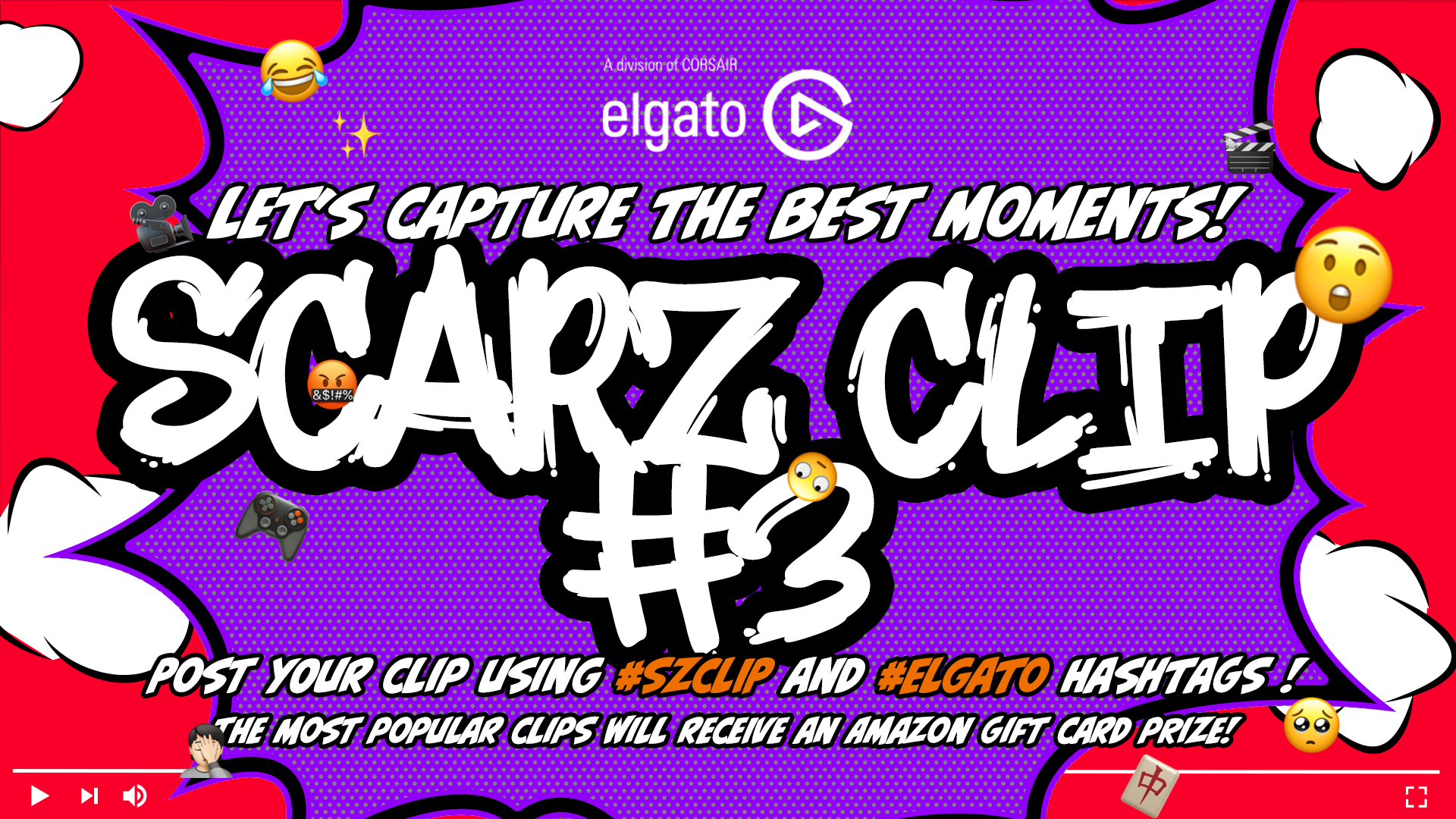 The third series of the gaming clips contest "SCARZ CLIP" is starting now!
The third series, which is sponsored by Elgato, will be open to clips from SCARZ Players, Streamers, and even your own personal gameplay videos!
Why you should submit clips!
① Your favorite plays will be seen across the SCARZ fan base!
The best clips will be compiled into a full video and shared by the official SCARZ social media accounts!
②Cheer on your favorite player!
Share your favorite player or streamers top plays and support them by promoting them SCARZ!
③You can receive an Amazon Gift Card and get one sent your favorite player too!
The winner will receive an Amazon gift certificate. If you submit a clip of a player/streamer, both the player/streamer and the submitter will receive an Amazon gift certificate.
How to participate
Schedule
October 8th, 2021 ~ October 31st, 2021 23:59  

JAPAN STANDARD TIME

※We will announce the winning entries around mid-November.

How to Submit
■STEP1: Clip the gameplay

■STEP2: Post you clip on Twitter with the following Hashtags #SZCLIP #Elgato

Applicable Games
Games that SCARZ is playing will only be accepted:

APEX, CALL of DUTY COLD WAR, CALL of DUTY MOBIMOBILE, FIFA21,FORTNITE, Identity 5, LEAGUE of LEGENDS WILDRIFT, PUBG MOBILE, VALORANT , Winning Eleven

SCARZ Streamers
SCARZ YouTube, Mildom, and Twitch streaming videos of our players, coaches, and managers

■APEX(JP):
Rumad

■APEX(SCARZ EU):
SCARZ EU ・Mande ・ Taisheen ・ rpr

■CoD:NevvtonX ・ AliceWonderland ・ Duffle ・ Rumia

■CoDmobile:

FantaJiN ・ TeiN ・ Mic ・ Ryo ・ LaFius

■FIFA:

■FORTNITE:

■IdentityV:

Sinami ・ Juda ・ SiLia ・ soar・Peter

■LoL:WR:

■PUBGmobile:

Naoto ・ Mattun ・ kouMel ・ DOGGY ・ Favis・じゃがりん

■VALORANT:

Ranking
Amazon Gift Certificate Rankings

A:SCARZ Player Unusual Play Award: 5,000 yen each to the contributor and player (10,000 yen total)

B:SCARZ Player Good Play Award: 5,000 yen each for the contributor and the player (10,000 yen total)

C:General Player Unusual Play Award: 3,000 JPY to the submitter

D:General Player Good Play Award 3,000 JPY to the submitter

Selection
・Unusual play award: A funny scene, a scene that shows the personality of the distributor, or an unique scene

・Good play award: A scene of authentic play